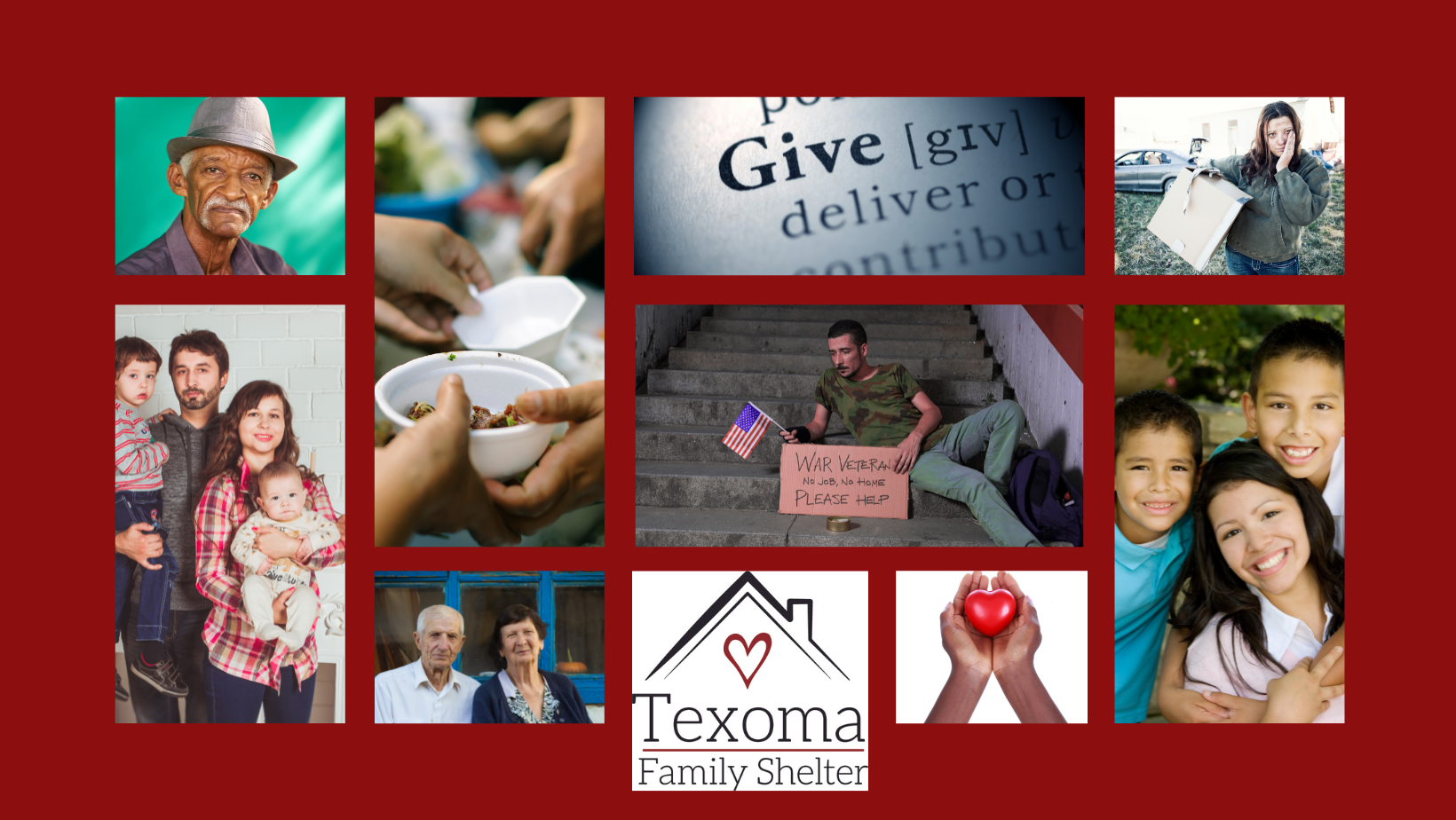 Texoma Family Shelter is a 501(c)(3) non-profit homeless shelter for displaced families and singles, and is the only shelter in Grayson County providing temporary housing for homeless families.
The Shelter receives no local, county, state or federal government funding. Operating expenses are paid from donations, grants and revenue generated from the Texoma Family Thrift store that is next to the Shelter.
Residents must be able to pass a drug screen and the Shelter does not function as a domestic abuse crisis facility. Shelter staff can assist with redirecting people for those services.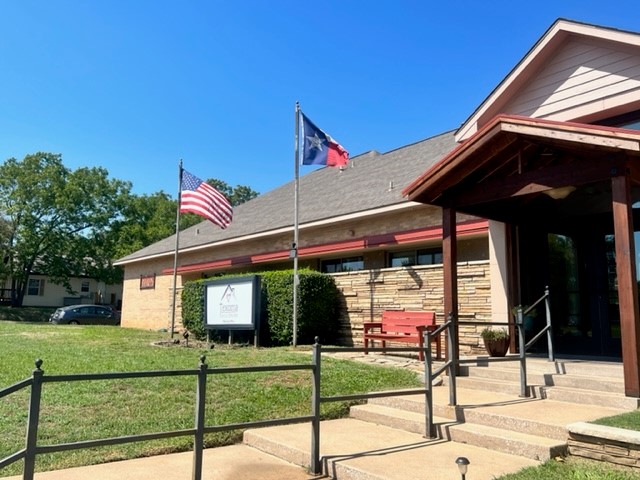 If you find yourself in need of a calm harbor from life's storms,  we are here for you. Each resident has their own story, often involving economic hardships, family break-ups, and substance abuse, among other stressors.
If you are a single woman (21 and older), a single man (35 and older), or a family, we can offer you, at no charge:
A clean and safe sleeping room
Showers & toiletries
Meals, snacks & drinks
Laundry facilities & detergent
Clothing
Job search assistance
Basic financial planning help
Help transitioning to permanent housing
Texoma Family Shelter appreciates your continued support as we help revitalize & restore hope in the lives of the homeless in our community!
Please Support Us by participating in our Community Project! Contact us today!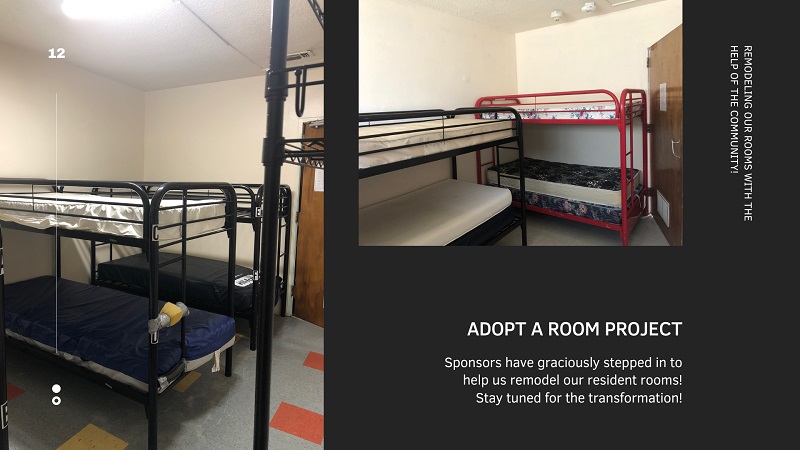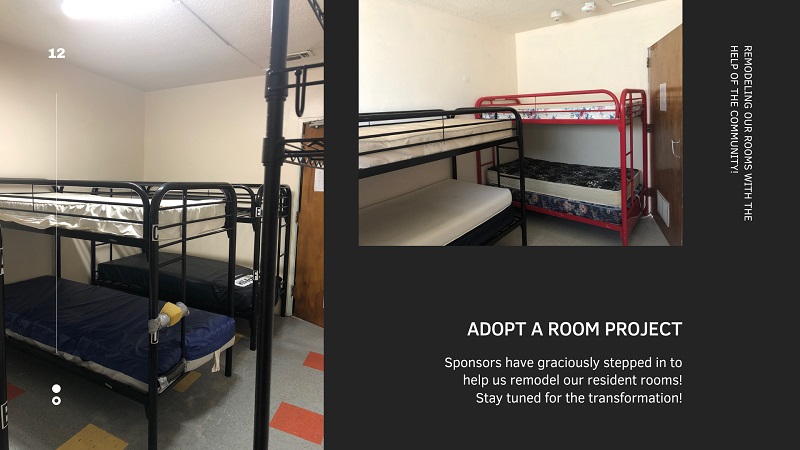 "they are very loving God bless them all specially Kary that was always there for everyone that is in need God bless you all the time I was there I was helpt thank you all at Grayson shelter for all the help was given to me by you y'all."
Claudia O DE Morales
"This is the best place to drop your stuff off at I just took a box full of movies and church cds and a sack of clothes and dropped it off so this is where you should go and I seen a kid riding one of the bicycles
"
Kristin Comeaux
"Denise Wade, the social worker there is the best lady I know. She leads with her heart, we work together in what we do and I learn so much from her!"
Micah Riddick
"I actually had to live here for a month with my son about 12 yrs ago. We found ourselves without. I was a single mother with no help. I just needed a safe place to be. God sent us here yup my 4 year old and I. We loved all the help. Took me 5 weeks to find a job get an apt. And we were back on our feet. Amazing angels were there. Always a huge Thank You."
Leslie Senase
Tracy Realty supports the Texoma Family Shelter because we believe in the work TFS is doing to help those who find themselves without a place to call home. When I was a child, my Dad lost our house in a high stakes poker game.  We went from homeowners to tenants and then after my parents's divorce, my mom, 3 sisters and I were unhoused.  Fortunately, we had grandparents nearby and we were able to move in with them, until my mom was able to get employment and our own apartment. For people finding themselves in situational homelessness, with the loss of a job, a divorce, or medical emergency, the Shelter is that stop on the way to finding an affordable rental.  TFS provides not only emotional support and counseling and a safe and clean place to stay, they offer help with employment, healthcare, childcare and  heathy regular meals. TFS provides these necessary services and does so in a kind and caring environment.
Maya  Angelou said "I've learned that people will forget what you said, people will forget what you did, but people will never forget how you made them feel." –Maya Angelou
Thank you TFS for making this world just a little bit easier for those who need help and support with the most important need, a place to live.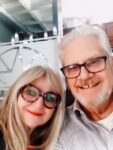 Tommi Homuth